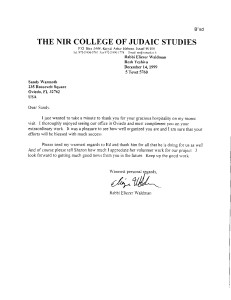 I was invited to participate in a cutting-edge project in Israel in 1996 that began as a concept to garner support for Biblical Zionism and advance the return of Jews to Israel.  As volunteer International Coordinator, I developed the Executive Director's ideas into a concrete plan comprising Jewish and Christian Branches and an Aliyah program of Jewish Return.   The Christian Branch was responsible for raising funds, getting the project to support itself, monitoring media coverage, and advocating policies favorable to Aliyah.  The Jewish Branch was responsible for establishing Jewish Identity/Emergency Evacuation Centers and coordinating an Aliyah effort.
I secured the project's U.S. tax-exempt status as a religious-educational mission after I developed its operational and communications programs and overcame a legal challenge to the application.  A still broader challenge involved bringing together Israeli and non-Israeli cultures and Jewish and Christian communities from all persuasions for a common purpose.  This involved increasing the yeshiva's visibility in Christian circles and helping Christians to understand the complex issues facing the Jewish communities in Israel and in the diaspora, and presenting the mission and matters concerning Aliyah to diaspora Jews.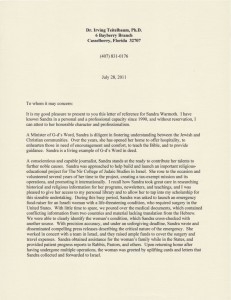 Under my direction, the mission became 
self-supporting, attracted regular donors, generated Christian interest in Jewish affairs, and brought in invitations for speaking engagements.  I expanded the mission's reach into 19 countries, and navigated it through religiously and politically unpredictable periods.  My outreach to Israelis, non-Israelis, Orthodox Sabra and diaspora Jews, and Christians from various denominations helped bridge gaps among these vastly different communities.